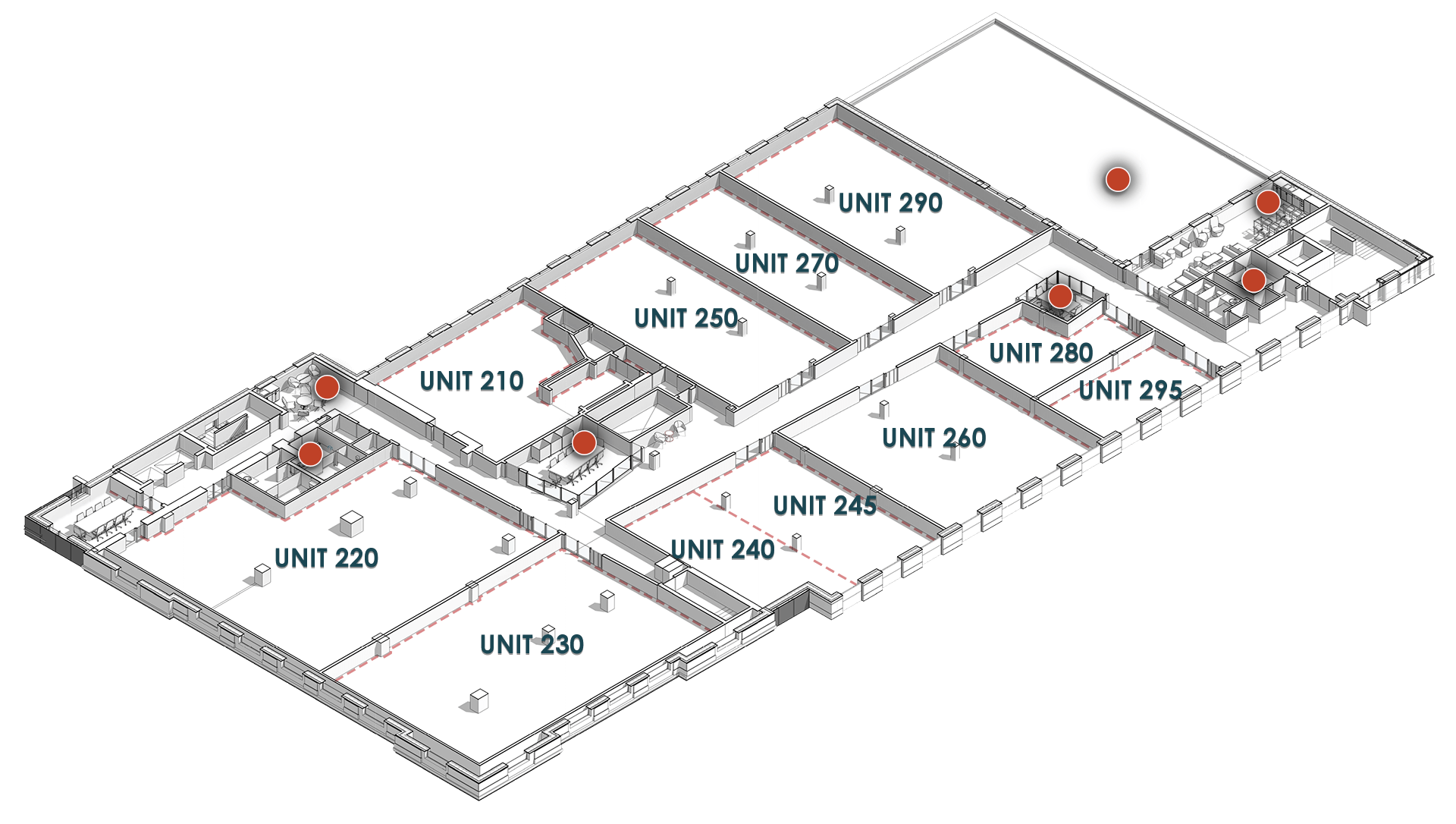 Tenant Nook
The tenant nooks are an excellent place for a casual meeting or cross-business networking.
Main Boardroom
Outfitted with the latest video conferencing and audio capturing hardware, the main boardroom is shared among tenants on the second floor and reserved via our digital booking software.
North-East Entrance
Access to the second floor via, the NE Lobby elevator or stairs.
Unit 230
Unit 230 is a prime spot on the second floor of Post. Overlooking the busy downtown corner of 4th Avenue and 7th Street the oversized windows will delight a team of up to 28 people.
Unit 220
Unit 220 is the largest single-unit on the second floor, perfect for a team of 18 - 32. This large unit dominates the North-East corner of the building with views and character-rich features.
Washrooms
North East shared washrooms for the second floor of Post.
We don't promote collaboration with this type of business.
Rooftop Garden
Our rooftop garden gives users of Post a relaxing outdoor environment for some creative thinking, casual meeting, or a relaxing break from work.
Unit 240
Pending
Download Unit Floorplan
Unit 240 can be easily combined with Unit 245 for additional space (if required). On its own, 240 is perfectly sized for a team of 5-9. This corner unit is highly visible and accessible along the main corridor and main boardroom.
Unit 210
Pending
Download Unit Floorplan
Unit 210 offers easy access from the NE lobby, perfect for a health care provider or public service company with room for a team of 7-12.
Unit 250
Pending
Download Unit Floorplan
Unit 250 is a large and cost-effective unit at Post, with room for 9-17 team members. Perfect for professional services looking for a large blank canvas to innovate and grow.
Unit 290
Pending
Download Unit Floorplan
Unit 290 owns the South-East corner and sunrise over City Hall. This team of 9-17 will appreciate neighbouring the rooftop garden and tenant lounge, and clients will appreciate it as the first unit as they enter the corridor.
Unit 270
Pending
Download Unit Floorplan
Unit 270 is a strong location for a professional services business looking for credibility and proximity to important downtown services. Unit 270 offers surprising flexibility with room for 7-13 team members, alternatively, the unit could be combined with either (or both) neighbouring units for a medium to large local enterprise.
Unit 260
Unit 260 is a cost-effective solution for large teams looking to enter post with 10-19 team members. Plenty of windows and views for the team to enjoy with added efficiency with open workspaces.
Unit 245
Pending
Download Unit Floorplan
Unit 245 is easily combined with unit 240 for businesses looking for a larger footprint at Post. This unit on its own has great views of the RBC building and 7th Street's tree line and room for a team of 5-10.
Unit 280
Unit 280 is an excellent option for businesses looking to house a 4-9 employee's with an open workspace. This unit has great visibility and access via the South-West entrance and user amenities.
Unit 295
Unit 295 is a small unit for a team of 4-7 employees. With the most direct access of any unit to the South-West Entrance, this unit is perfect for a business with sales staff or frequent short clientele visits. Large windows give this unit incredible natural light for it's size.
Second Boardroom
A perfect meeting spot for a team meeting or an important client presentation. This corner jewel is easy to locate and gives a great impression of your business.
Tenant Lounge
The tenant lounge gives every user a great place to unwind with lunch or meet with a co-worker and client over a fresh coffee. Equipped with everything your team needs for food storage and caffeine, the lounge will certainly be a common meeting place in the building.
Washrooms
South-West shared washrooms for the second floor of Post.
We don't promote collaboration with this type of business.
South West Entrance
Elevator and stair access from the South-West Lobby.
This entrance has the nearest proximity to the Park-n'-Ride.